Here's a slide I prepared for recent talks about Social Media for Accountants. I reference it after I note the desire that an increasing number of firms have to experiment with social media.
Whoever takes responsibility for your social media activity could be doing something else. So you need to determine whether the time spent on social media could be spent more productively. This is true whether it is you, a colleague, someone in your marketing department or a third party consultant 'doing' your social media work for you.
Let's imagine that you ask Harry to devote some time to managing the firm's social media projects (or maybe Harry is YOU). In order for Harry to devote any time to this new project he's going to have to give up doing something else.
The equation sets out his priorities in formulaic terms. He could stop doing X, to do Y in order to accomplish Z which is more important than Q.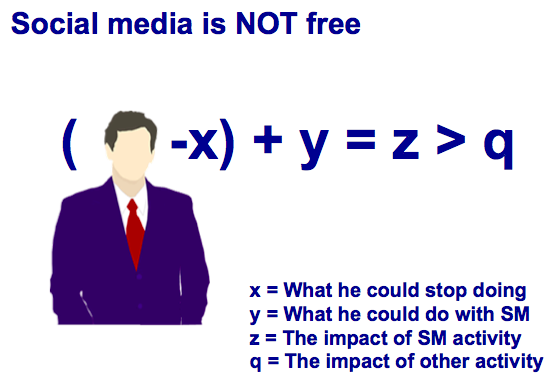 Starting with X – What is going to give? Your newsletter? Your direct mail campaign? Harry's smoking break?  Is he currently wasting his time? Or does the practice or business benefit from what Harry does at the moment?
Moving onto Y – You can't just say: "Harry I need you to do our social media".  You need to be clear WHAT exactly he will be required to do, on which sites and with what objectives. You also need to agree a reasonable amount of time each day or week. And a word of warning. Once Harry starts it can be quite hard to stop. It may start at just 2 or 3 hours a week. It can easily end up as 2 -3 hours a day. It's likely to require at least 5 hours a week IF you plan to use social media as a serious marketing tool.
Now Z – This is the value you attribute to the strategic and financial impact you hope to achieve from having Harry involved with social media activity. If you hop on the bandwagon without a clear idea of what you hope to achieve, how can you determine that it's more important than anything else you're doing? ie: X
And, finally, Q – If you're considering getting engaged in social media at your firm or company, don't you think it would be a good idea to consider what else Harry could be doing with the time you are going to free up and the impact that might have on  your business? It's basic due diligence I think.  It's the same if you are considering recruiting someone to run your social media campaign – or outsourcing this to a marketing organisation.  What impact might you reasonably expect from any OTHER activity you could engage them to do for you? Social Media is NOT the only game in town although, perhaps, there are some firms who are doing EVERYTHING else they could be doing such that Social Media is the only thing they have yet to try.
Does this equation work for you? How might we improve it?
Like this post? You can now obtain my 10,000 word ebook containing loads more Social Media related insights, short-cuts, tips and advice aimed specifically at accountants. You can buy the book or download a summary for free here>>>