I'm a big fan of Linkedin as it can be a very effective online business networking tool. I always wince when I hear it being spoken of as a social networking site in the same breath as facebook, twitter and pinterest. It's quite distinct and, in my experience, is generally used in a very different way from the more 'social' sites.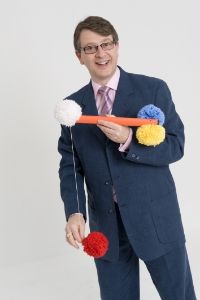 My enthusiasm for Linkedin together with my long time love of magic has led me to coin a new acronym for my connections on Linkedin. People On My Perpetually Online Network ('Pom-Pon'). Henceforth the magic PomPom stick I'm holding in this old photo will be known as my Linkedin Pom-Pon stick. And with it I can evidence the power of Linkedin.
If you are attending Accountex this year you may see me with my Linkedin Pom-Pon stick. My main keynote talk is focused on: How accountants can STANDOUT and avoid being 'just another accountant'. I'll have the Pom-Pon stick with me. Hope to see you there. You could apply for your free tickets right now. You can come on Thursday 15th or Friday 16th of May.