Too many people play at social networking and don't really 'get it'. Then they assert that 'social networking' doesn't work – although the fault is not so much with the medium as with the way they used it.
There are many posts on this blog that can help social media novices – and also more experienced users. This time though I have summarised nine things you would be well advised to avoid doing on social media – if you want to have a chance of using it successfully for business purposes.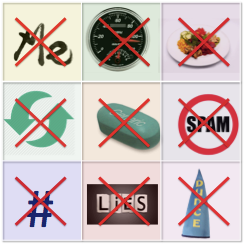 Don't make it all about you. Self promoting is a turn-off and will rarely attract new people to get to know you. And if they don't know you they won't refer work or other people to you.
Don't be in too much of a hurry to post things. If you post too fast and without thinking you may say something online you regret. Some people see Google as a history book. Everything we have ever said or will ever post on line will be there and capable of being found for ever.
Don't keep telling us about what you're eating. This was a mistake some users made in the past. Don't perpetuate it
Keep your messages varied. Don't keep repeating or reposting the same messages.
Keep your messages focused and specific so that you STANDOUT (in a positive way).
No spam. 'Need I say more?
Don't try to use more than the odd hashtag until you are sure you really understand how these work. Rank amateurs really standout – and for the wrong reasons!
Keep your posts honest, decent and truthful.
In summary – don't be stupid. Apply common sense to all you say and all you do online.
Like this post? You can get links to each of my new blog posts in a weekly email. These also contain 5 further, quick and simple practical tips and ideas for accountants and tax advisers who want to be more successful. You can join the thousands who get this each week by signing up here now>>>>